CRUNCHING THE NUMBERS ON OUT-OF-FIELD TEACHING
Publication Date: November 2018
Author: Prof Geoff Prince & Michael O'Connor
Out-of-field teaching in mathematics is a deep and difficult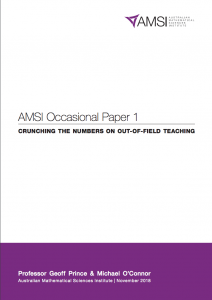 problem in Australian secondary schools. It is estimated that
between 21 percent and 38 percent of Year 7-10 maths classes
are taught by out-of-field teachers, depending on the definition.
Combined with the subject's other endemic problems, such as the
20 year decline in the proportion of students taking intermediate
and advanced maths at Year 12 and the wholesale retreat from
prerequisites by the universities, the future for the mathematics
teaching workforce looks grim.